How Custom Signs Help Communicate – Custom Safety Signs and Inclusion
How Signs Communicate

Let the milk jug illustrate just how helpful custom signs can be. This would be a custom safety sign that saves all the tiny humans and husbands from getting into too much trouble.
Communication is a key part of any business whether that be with employees, visitors, and most importantly customers. Custom signage can help meet this need! Every workforce industry has social responsibility – safety and inclusion. Proper communication is the key to ensuring those two factors exist. It is simply unrealistic to have a person on standby at every turn, corner, and hazardous situation. Custom signage can be very helpful in enabling effective communication regardless of the industry. We rely on the communication that signs give us every day – consciously and subconsciously. Custom signs help communicate directions through the use of directories in office buildings.  They also help us navigate hospitals, schools, and universities. Ladies, no more claiming you got lost at the mall – custom signs even assist at shopping and entertainment venues. Custom signs also provide directions while driving, and much more. Everyone relies on signs every day for guidance.
BUT IT DOESN'T STOP THERE…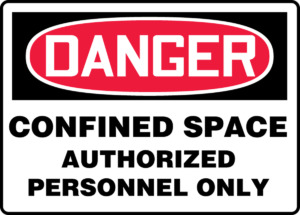 Custom safety signs can also help bring a higher level of awareness and safety by indicating safety precautions and hazards. With the use of industry-standard symbols, colors, and text placing signs in the correct area will significantly lower the risk to anyone exposed to hazards in the workplace and promote higher safety. For the safety and well-being of employees and patrons, the Americans with Disabilities Act (ADA) and the Occupational Safety and Health Administration (OSHA) require that certain signs be displayed in every business. Many times areas have restricted access. Equipment may need custom labels such as high voltage equipment. OSHA leaves no one out. Safety signs are not optional for many businesses.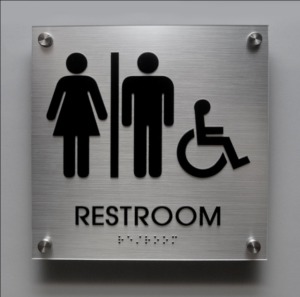 Many are aware of OSHA regulations, but not too many are well informed on ADA regulations. To ensure proper compliance it helps if you understand the reasons require certain signage. Disabled individuals are part of a federally protected class that requires federal compliance to ensure these individuals are not the victims of discrimination. Signage can help these individuals thrive in society as equals in their community. Barriers should not exist for people with disabilities and custom signs are especially helpful for their safety and to help them find their way.
It is the social and sometimes legal duty and responsibility of business owners to adhere to ADA regulations and to be familiar with laws that directly affect their employees and customers. ADA signs protect individuals regardless of their capabilities and ensure fair treatment and equal access – this includes those who are mobility impaired, require the use of braille signs, and more. Ensure your business is ADA-compliant with custom signage.
At Lafayette Signs, we have the know and know how to be able to design and install signs to help your business grow in compliance, safety, and inclusion.
Custom Safety Signs & Inclusion Signs
Lafayette Signs can offer custom safety signage that will align with compliance and keep your business branding and aesthetics alive as well as signs that will make your environment feel more inclusive.
Braille Signs
Tactile Signs
Directional Signs
Directory Signage
Room Number Signs
Restroom Signs
Handicap accessible signs
PPE Signs
Confined Space Signs
High Voltage Signs
Lock Out Tag Out Signs
Step Up/Step Down Signs
It is our mission, much like yours, to ensure everyone can safely have access to your business whenever necessary and feel included.
Contact us today and let our team of professional and local sign experts help you design unique custom safety signs in Lafayette, LA for your business!
We are located locally in the <3 of Lafayette, LA –  but can ship nationwide!