Custom Vehicle Magnets in Lafayette, LA
Did you click on this link thinking we would say anything other than yes? We are a sign company – of course, we want to sell you custom vehicle magnets in Lafayette, LA. However, we do not want to sell you anything that is not effective!
If you own a business, especially a smaller owned business with many other competitors in the same field, some of which may be large-scale corporations – it will always be difficult to compete with their marketing in a cost-effective manner. Most small businesses struggle with marketing and choosing the best method to spread their brand. Social media and digital marketing only make it that much harder for small businesses to be visible when larger businesses have the dollars to throw out on marketing costs.
In an effort to make your company and brand visible, we want to remind you of cost-friendly and effective marketing strategies that stand the test of time – custom vehicle magnets in Lafayette, LA.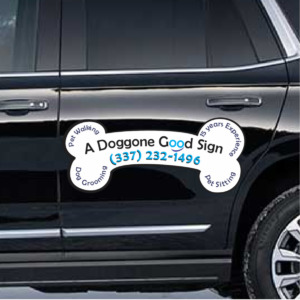 Let's dive in –  how exactly are custom vehicle magnets beneficial to your business?
You drive daily. How often are you sitting in traffic? How many eyes are on your vehicle daily? Vehicle magnets are an ideal way to keep your company's name at the top of the minds of 100s possibly even thousands of prospective customers every time you pull out of your driveway!
Ease. The only thing that comes close to peace of mind is the ease of use! Vehicle magnets require no skills to use they also do not require reaching in a toolbox or paying for professional installation — HELLO to extra MONEY in your pocket (give it to the partner – buy them a Starbucks – make their day). You can also easily use these when you sponsor an event, team, or athlete, and many more creative ways in indirect marketing – keep your brand in mind when asked for sponsorship – make it a part of the deal! The more vehicle magnets you get on the road the more your brand awareness arises simply by driving around.
Rain. Sleet. Snow. Sun. Our custom vehicle magnets are ready to battle the elements and drive off into the sunset with you with a W!
Damage. No damage control to worry about here! Relax with peace of mind that it will not harm your car.
Cost-effective! As we mentioned earlier this is a cost-effective way to keep your name and brand visible. It takes money to make money, but with vehicle magnets, it won't take THAT much money and it's an investment that will last. In marketing, this is a huge return on investment (ROI). The low average that a person travels per year in Lafayette, LA is 14,951 miles. The math is mathing right – that is thousands and thousands of potential customers' eyes on your brand – daily.
Unlimited Possibilities.

Eye-catching and never boring!

Hair stylist – get that blow dryer-shaped custom vehicle magnet! Dog sitter – who doesn't love cute beans or big bones – we have a custom vehicle magnet for that too! Tutor – an oversized pencil will catch their attention. There are also classic traditional shapes, but be sure the design is catchy and bright to make a BIG IMPACT!
Ease. I know we mentioned this one already, but it really does not get much easier than a custom vehicle magnet. Your vehicle has so much empty space to fill with genius marketing campaigns. Easily remove the magnet from the surface and replace it with the new one! Easy as ABC-123…hey everyone look at me! Oh sorry, we got carried away singing a cute little tune there. Our attention is refocused and onto 8!

ADVICE.

Don't send the birds flying when you have your company logo on your vehicle. You're welcome. 🙂  
Contact us today and let our team of professional and local sign experts help you design unique custom vehicle magnets in Lafayette, LA for your business!
We are located locally in the <3 of Lafayette, LA –  but can ship nationwide!